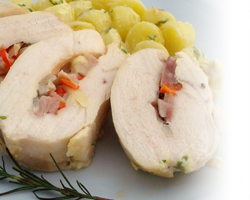 Creamed potatoes filled-chicken
Chicken breast
1 unit (250g.)
Cream
10 tbsps. (100 cc.)
Preparation
Dice the bacon, the cheddar cheese, the mozzarella and
Roquefort in small cubes. Mix them with bread crumbs, the flour and the egg to finish the filling.
Make a deep cut in the chicken breast, add salt and fill in the chicken. Place the chicken in one of the sides of the Multi-
Cocción. Dice the potatoes or cut them in noisette potatoes, add the cream, salt and pepper and place them in the other compartment of the MultiCocción. Cook for 5 minutes.