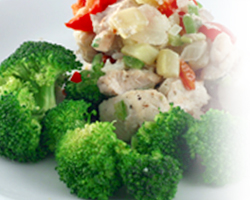 Vegetable Mix with Chicken and Natural Broccoli (cholesterol reduced)
Finely chopped dehydrated garlic and parsley (provenzal)
1 spoonful
Procedure:
Peel the eggplant, the zucchini, the onion, wash the peppers and remove seeds and veins.
Dice the onion, the eggplant, the zucchini and the peppers in ½ cm. cubes. Rinse well and cut the scallion and the leek in thin slices. Dice the chicken in 1,5 cm .cubes.
Mix all the ingredients, add salt and pepper, provenzal and place the mixture in one of the MultiCocción cavities up to ¾ of the height from the bottom.
Place the broccoli without stems in the other cavity of the MultiCocción, adding salt and pepper..
Put the lid of the MultiCocción on and microwave for 4 ½ minutes on high.