| | |
| --- | --- |
| | |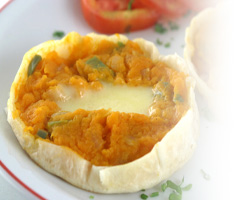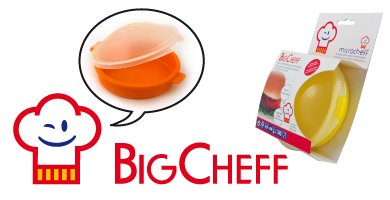 Small Squash Pie (cholesterol reduced)
Squash
½ unit (300 gr. approx.)
Chopped chives or parsley
2 tablespoons.
Grated cheese
3 tablespoons.
Small pie shell (Ready made tapa for empanada)
3 units
Corn starch
1 coffeespoon
Port Salut Light cheese
3 cubes of 25 gr.
Procedure:
Dice the squash into 3 cm cubes. Put them into the MultiCocción, sprinkle salt and pepper and microwave for 3 minutes on high. Uncover and mash the squash dices until getting purée.
Then rectify flavors by adding salt and pepper if necessary and add the grated cheese and the chopped chives. Once the mashed squash has cooled add the egg white, previously beaten, the corn starch and mix everything.
Put the pie shell and line the BigCheff base , prick with a fork many times, put the lid
and microwave for 1 minute on high. Repeat the same procedure with the other pie shells.
Stuff the baked shells with the squash mixture and put a dice of Port Salut (Light cheese) on top of it.. Microwave au gratin for 1 minute.