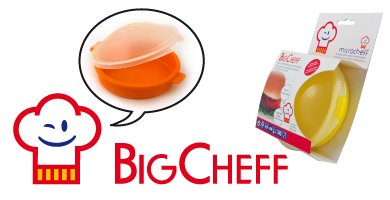 Mini Tarts of Chicken, Spinach, York Ham and Mozzarella
Small pie shell (Ready made "tapa for empanada")
1 unit
Vegetable oil spray
necessary amount
Preparation:
Wash the spinach and put it in the BigCheff. Microwave 2 minutes on high, take the spinach out and drain.
Sprinkle the pie shell with vegetable oil spray and line the BigCheff base. Prick with a fork many times
and microwave for 1 minute on high.
Chop the spinach with the mozzarella. Mix well with the nutmeg and half of the egg.
Chop the chicken with the other half of the egg add salt and pepper
and mix.
Then fill the mini tarts with the spinach preparation, then put the ham and cover with the Chicken preparation. Sprinkle grated cheese on top of it. Cover and microwave for 2 ½ minutes on high.