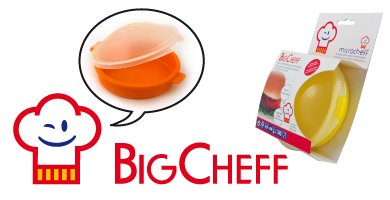 Chicken hamburger a la York
Ingredients:
(for 5 hamburgers)
Boneless chicken
500 grs.
Chopped parsley
1 tablespoon
Bread crumbs
3 tablespoons
Vegetable oil spray
necessary amount
Preparation:
Process the Chicken. Put it in a bowl together with the parsley, the
egg, salt an pepper, the bread crumbs and the corn starch. Wrap each
ham slice with the mozzarella slice. Make squares of 5 cms. Put part
of the chicken preparation in the BigCheff base. Add the ham and cheese square and cover with the rest of chicken preparation. Press
and flatten the upper part. Spray the oil, cover and microwave for two
minutes on high.
Bread crumbs can be replaced by oatmeal. You can save time using
Finely chopped dehydrated garlic and parsley (provenzal).