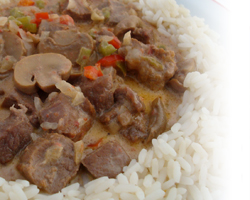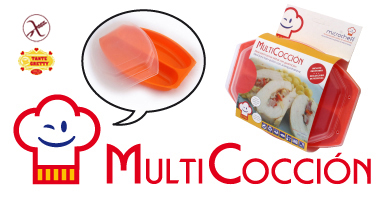 Strogonoff Loin with Gratiné Broccoli Suitable for celiacs
Preparation
Remove the fat from the loin and then cut the loin into cubes of approx.
2 cms. Cut the onion and the red pepper into small cubes. Put in one cavity of the MultiCocción together with ketchup, the tarragon
and salt and pepper.
Remove the main stem from the broccoli or cauliflower. Wash very
well and place it in the Multicocción without drying it. Add salt and
sprinkle grated cheese on top. Then mix the cream with 1 teaspoon
of corn starch, add salt and pepper and mix well until there are no
lumps.
Cover then microwave for 4 ½ minutes on high.
Finally stir well the loin preparation.

Use gluten-free ingredients.