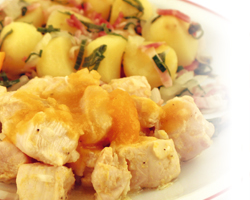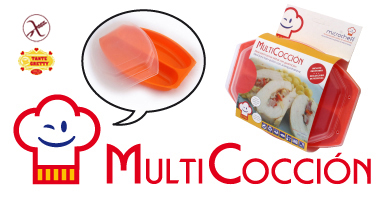 Chicken with Orange Sauce and potatoes to taste Suitable for celiacs
Preparation
Cut the Chicken into 2cm. cubes and put them in one of the cavities of
the MultiCocción. Beat energetically the orange and lemon juice, together
with the sugar, the garlic powder and the corn starch and add it to the chicken. Peel and cut the potato in Noissette form of approx.
1 ½ cm. Peel the onion and the green onion and cut them in Julianne.
Use gluten-free ingredients.Cut the bacon into finely stripes. Mix the potatoes with the bacon and
the onions, spraying vegetable oil. Add salt and pepper and put it in the
other cavity of the MultiCocción. Cover and microwave for 4 minutes on
high. Sprinkle the potatoes with chopped parsley and serve.
Use gluten-free ingredients.Use gluten-free ingredients.