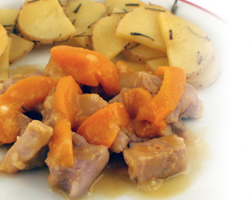 Sweet and Sour Pork Sirloin with Rustic Potatoes
Peach Marmalade
2 tablespoons
Lemon juice
2 tablespoons
Preparation
Season the pork sirloin with salt and pepper and put it in one cavity of
the MultiCocción. Process the peach (reserve some slices) together with
its syrup, the marmalade, the orange juice, the sugar and salt. Add some
peach sheets in the sauce. Pour the sauce in the cavity where the sirloin is.
Cut, the already washed and brushed potato, in slices of ½ cm. Sprinkle the
potatoes with salt, rosemary, and spray vegetable oil, then place them in the other cavity of the MultiCocción. Microwave for 4 minutes on high.
Cocinar por 4 minutos a potencia máxima.