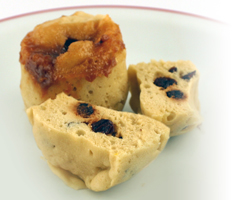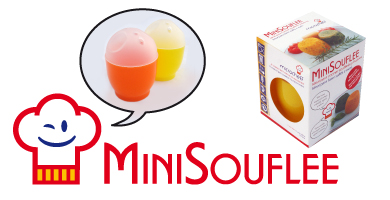 Ingredients
(for 12 units)
Sugar
90 grs. (7 tablespoons approx.)
Vanilla extract
1 tea spoon
Self rising flour
90 grs. (7 tablespoons approx.)
Dulce de Leche (Caramel)
100 grs.
Preparation
In a bowl beat the eggs and the sugar for 2 minutes. Add the the vanilla,
the lemon rind and mix well. Add the flour with the salt, mix and finally
the melted butter. With the help of a tablespoon pour the preparation in the MiniSoufleé up to a little bit less than half of it. Add the Caramel and the chocolate chips in the center and cover with the other part of the batter up to 2/3 of the mould to avoid overflowing.
Cover the MiniSoufleé and microwave for 2 minutes on high. If 2 MiniSoufleés are used, microwave for 2 ½ minutes on high.