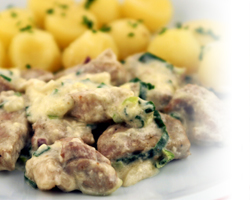 Pork Carré (boneless pork loin) with green onions and natural potatoes Suitable for celiacs
Boneless pork loin
400 grs.
Vegetable oil spray
necessary amount
Preparation
Dice the pork in cubes of approx. 2 cms. Chop the onion into tiny squares, cut the green onion in finely julianne.
Put everything in one cavity of
the MultiCocción, add the curry, salt and pepper and stir well.
Whip the cream with the corn starch until there are no lumps.
Peel and cut the potato in Noissette form and put it in the other cavity, add salt and pepper and spray with vegetable oil.
Microwave on high for 4 ½ minutes on high.
Use gluten-free ingredients.