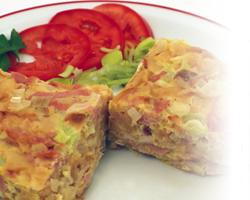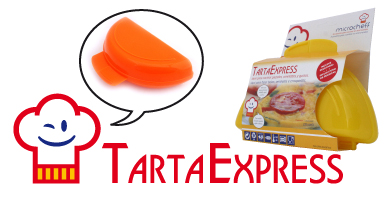 Herbs de Provence
½ coffee spoon
Preparation:
Wet the fries in milk for 5 minutes and stir every minute.
Peel and cut the onion in small cubes (brounoise). Clean and cut
the leek in thin julienne Cut the bacon in 1 cm cubes
Pour the eggs in the TartaExpress, add salt and pepper, herbs the provence and beat for a minute. Add the remaining ingredients
and stir.
Cover and cook at full power for 3 minutes.
Alternative: Fries and milk may be replaced by raw potato cut in ½ cm thick sheets. If you use raw potato, the tortilla cooking time is 4 minutes.