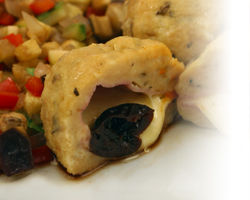 Chicken croquettes filled with rattouille
Cornstarch
1 coffee spoon
Preparation
Cut up the mozzarella in 5 cubes of 2cm and then join with the prunes.
Once stirred, wrap in the bacon slice.
Process the chicken and knead with the bread crumbs, the cornstarch
and the egg. Add salt and pepper.
Cover the filling with the chicken preparation and give it a spherical shape.
Place the croquettes in the MultiCoccion, paint them with mustard mixed with oil.
Use the other space to place the zucchini, the eggplant, onion, garlic, red pepper , add salt and pepper and then stir.
Cover the MultiCoccion and cook at full power for 5 minutes.
Once cooked, add the ratatouille, chopped parsley, soya sauce and stir.