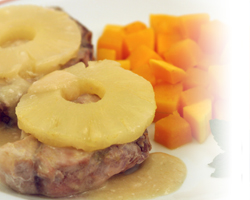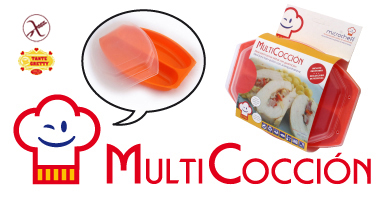 Pork Steak with Pineapple Suitable for celiacs
Pineapple slices in syrup
3 units
Preparation
Place the pork steaks in one of the spaces of the MultiCocción. Use the
other space to put the courgette previously peeled and diced in 1.5 cm
cubes. Sprinkle both spaces with salt and microwave the preparation
for 2 minutes.
Once finished, open the MultiCocción, add the pineapple slices and the
syrup to the pork. Cover and cook at full power for 2 minutes.
Serve hot. Sprinkle the courgette with parsley and spray with olive oil.
Use gluten-free ingredients.