| | |
| --- | --- |
| | |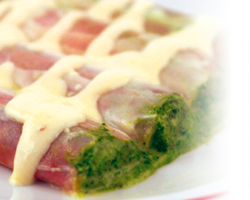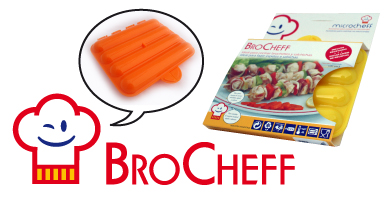 Ingredients:
(for 8 rolls)
Cheese cut into slices
8 slices
White sauce (béchamel)
80 grs.
Grated cheese
5 tablespoons
Procedure
In a bowl mix the cream with half of the White sauce, 3 tablespoons of
grated cheese and salt and pepper. Put 1 tablespoon of this preparation in each cavity of the BroCheff, where afterwards the rolls will be put.
Chop the spinach and put it in another bowl, add the ricotta, the
nutmeg, the egg, 3 tablespoons of white sauce, 2 table spoons of grated cheese, salt and pepper and mix very well.
Put 1 slice of York ham on the counter and over it one slice of cheese. Put
some filling in one extreme and roll it.
Make the rolls to fit the cavity of the BroCheff.
Repeat this operation until making all rolls.
Place the rolls in each cavity of the BroCheff, cover and microwave for 2
minutes on high. After that turn the rolls upside down and microwave for 1 more minute on high.
Serve on plate and decorate with the rest of the white sauce.