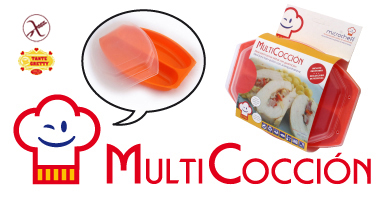 Eggplants topped with cheese and tomato sauce and scrambled zucchini Suitable for celiacs
Oregano-seasoning
to taste
Preparation
Peel the eggplant and cut a ½ cm slice along the vegetable.
Place the eggplant portion in one MultiCocción compartments. Add salt and pepper and top with mozzarella and the sliced tomato. Place the pealed and chopped zucchini
in 1cm. cubes together with the small cut onion. Add
salt and pepper.
Cover the preparation and cook in the microwave at full
power for three minutes. Once cooked, uncover and add the egg (previously beaten) and the grated cheese to the zucchini. Stir, cover and cook for another 1 ½ minute at full power. When you remove the preparation from the microwave, sprinkle the eggplant with oregano seasoning.